What's the difference?
G3 Harness

The G3 Harness systems are the ultimate in weight distribution. They provide maximum ergonomics while carrying your camera setup. Whether your setup includes one camera, or two, or binoculars, the G3 can handle it. Suitable for DSLR and telephoto lenses.

Shop G3 Harness

Skout G2

The Skout G2 is a lightweight and portable version of the G3 camera harness. While it will not fail under the weight of any camera gear, we recommend mid-sized setups or smaller for optimal use of the Skout G2.

Shop Skout G2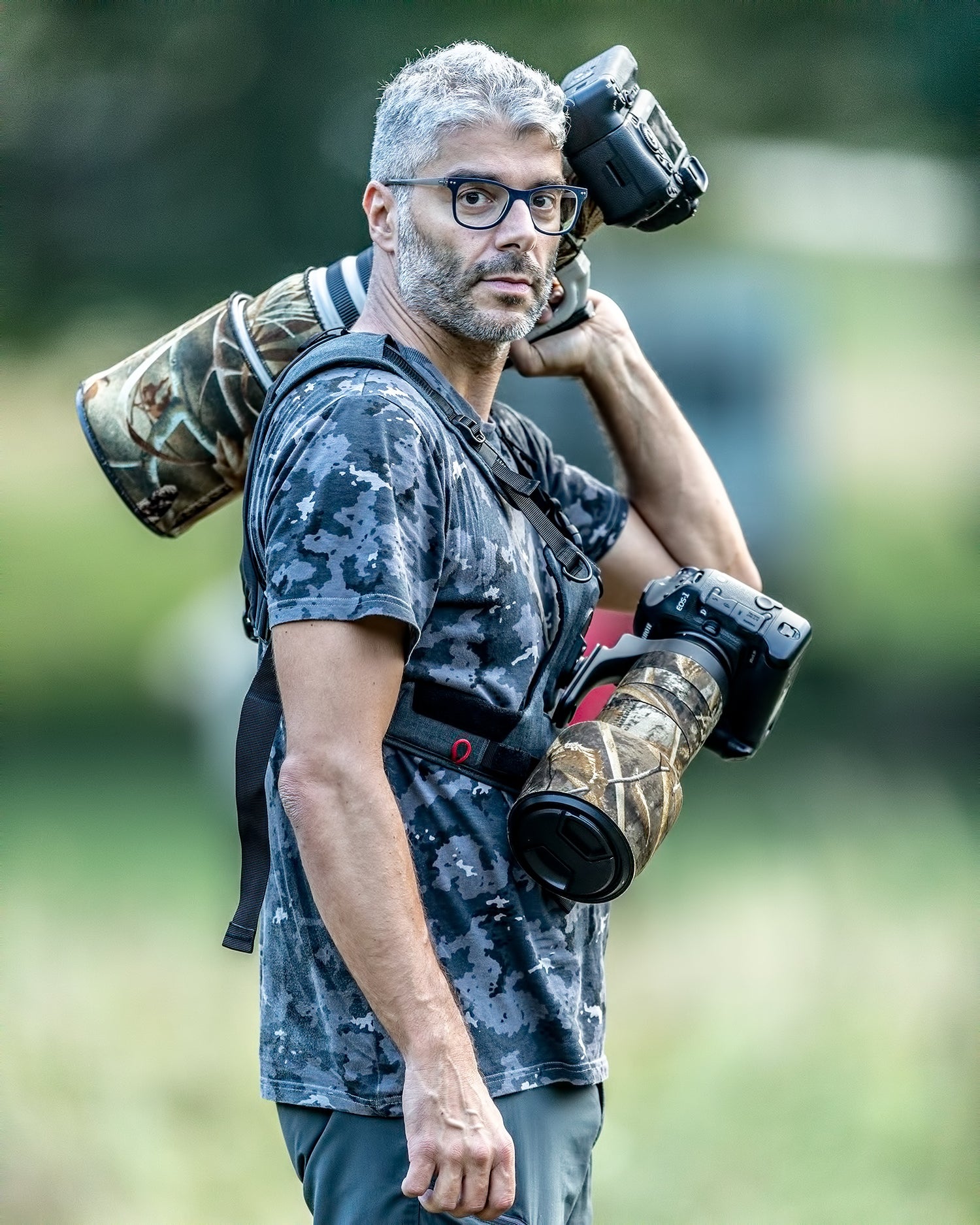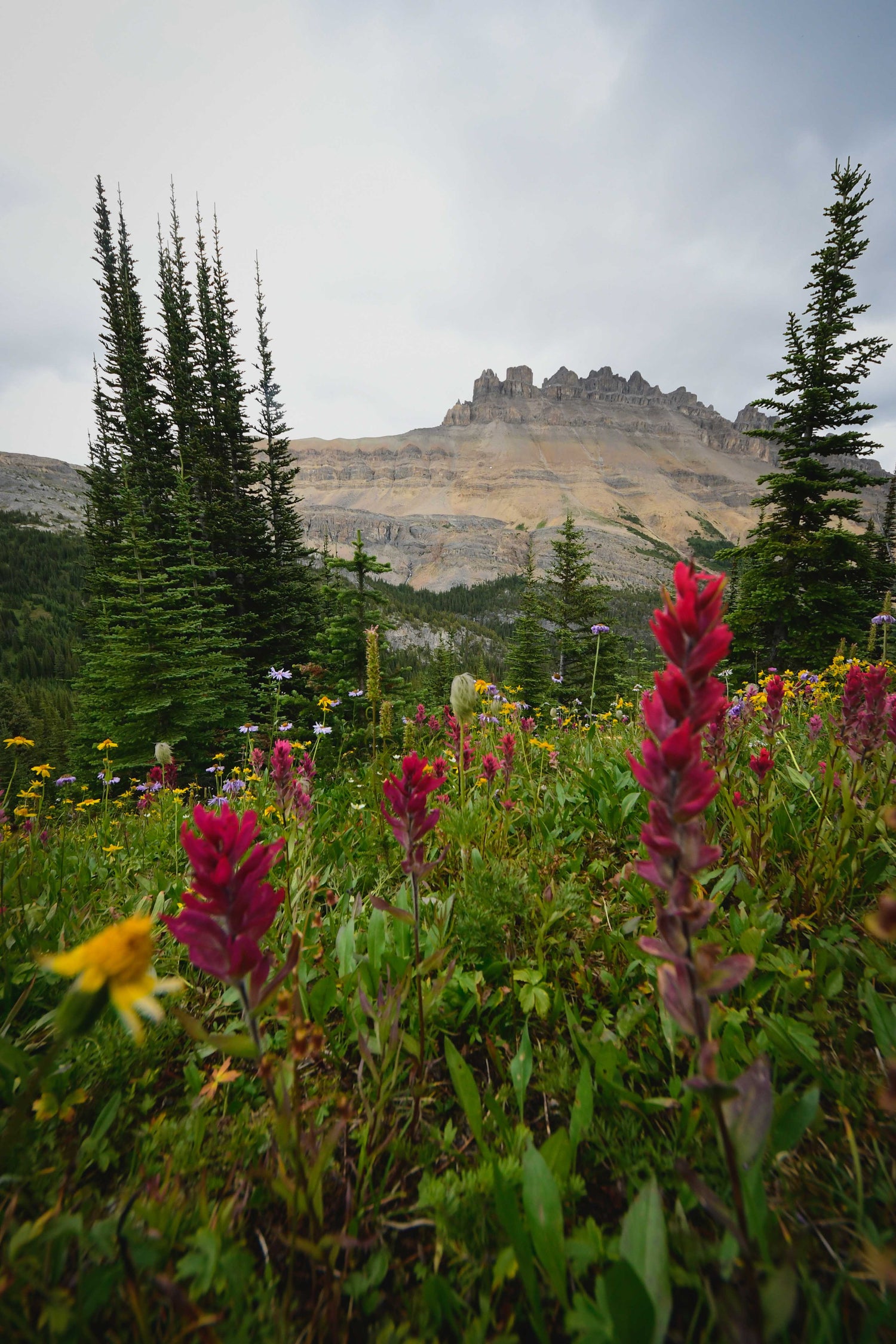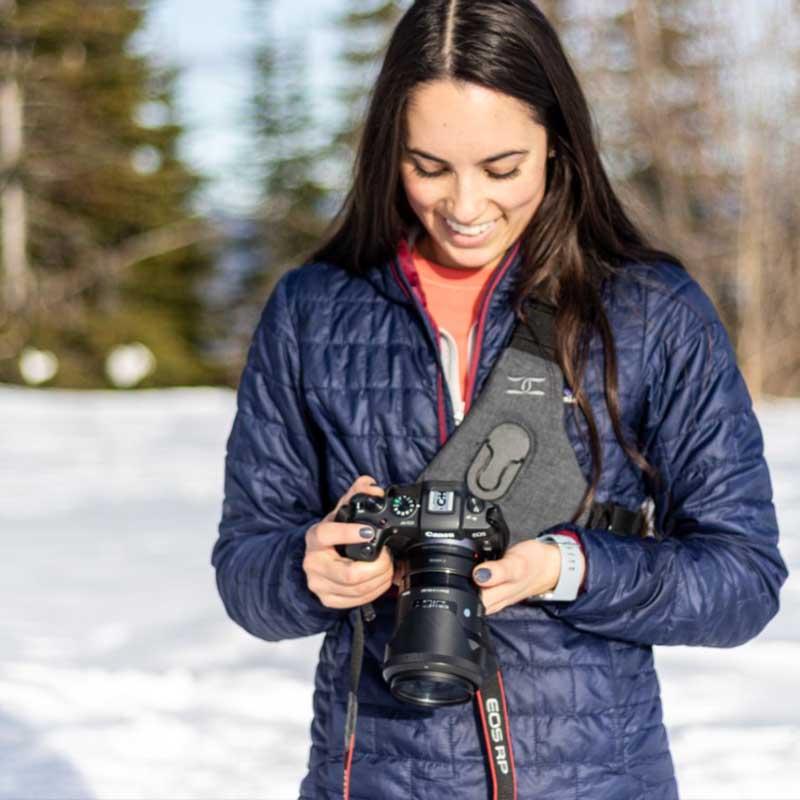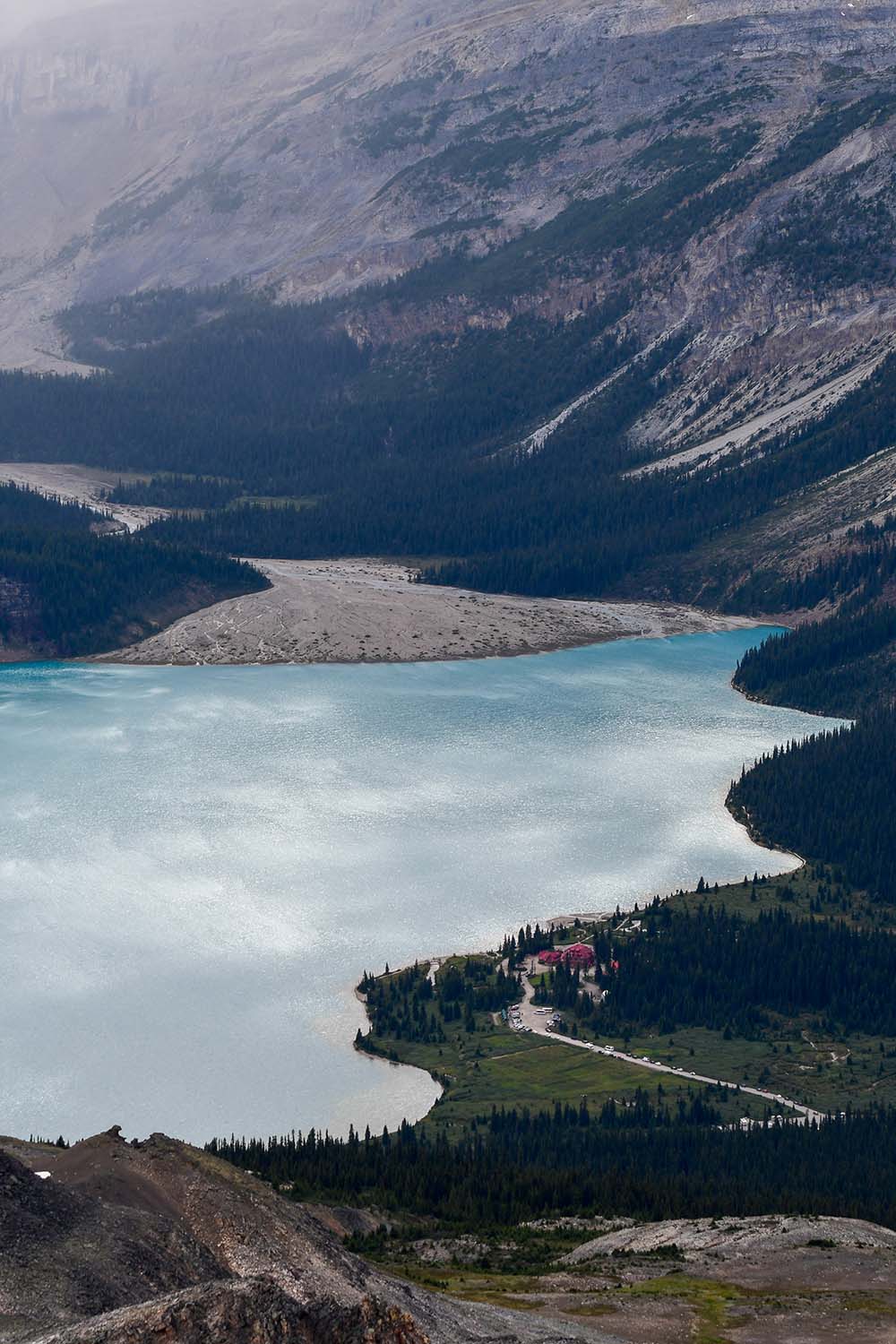 The camera essential you always knew you needed
Enjoy your adventures without your gear becoming a burden! Designed by photographers, our carrier systems will allow you to carry your camera gear more comfortably and securely while providing quick access to your essentials. It's a simple, functional, high-quality harness that guarantees a better photographic experience.
A truly hands-free harness
Ergonomic

The ergonomic design of Cotton Carrier distributes the weight of the camera to lessen the fatigue on long shooting days.

Safe

Be in the moment knowing your gear is secured as you climb, bike, hike, bird watch, canoe ... you get the idea.

Accessible

Always having your camera accessible is more than just a feature, it's the catalyst for getting your next beautiful shot.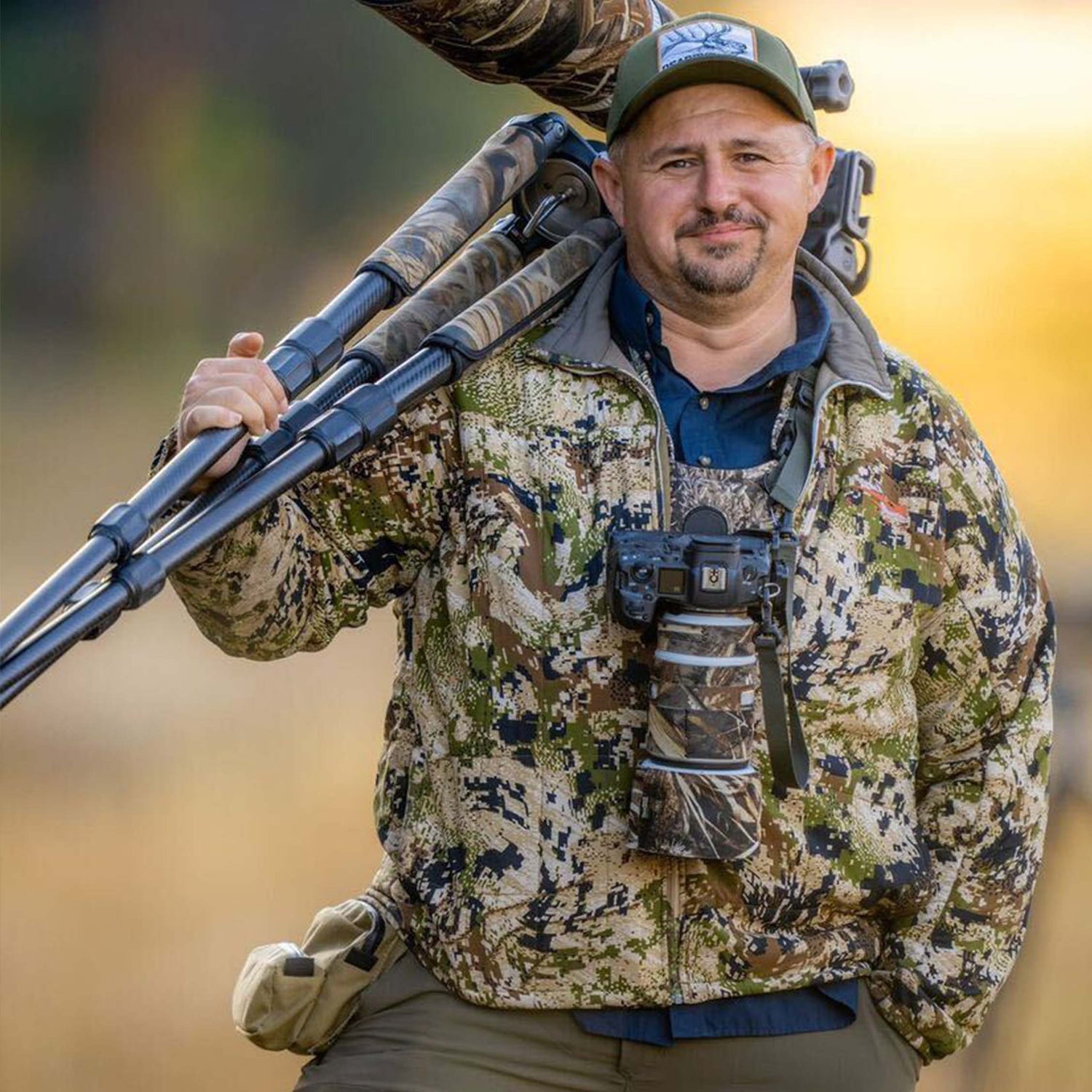 ⭐⭐⭐⭐⭐
"Part of my success relies heavily on the gear I use. I'm a firm believer in only using the best. Pay for it once and never have to worry about it. Cotton Carrier systems are a key part of my gear list. It's made from quality materials and functions flawlessly at every turn."
— Jason Loftus (UntamedImages)
Featured in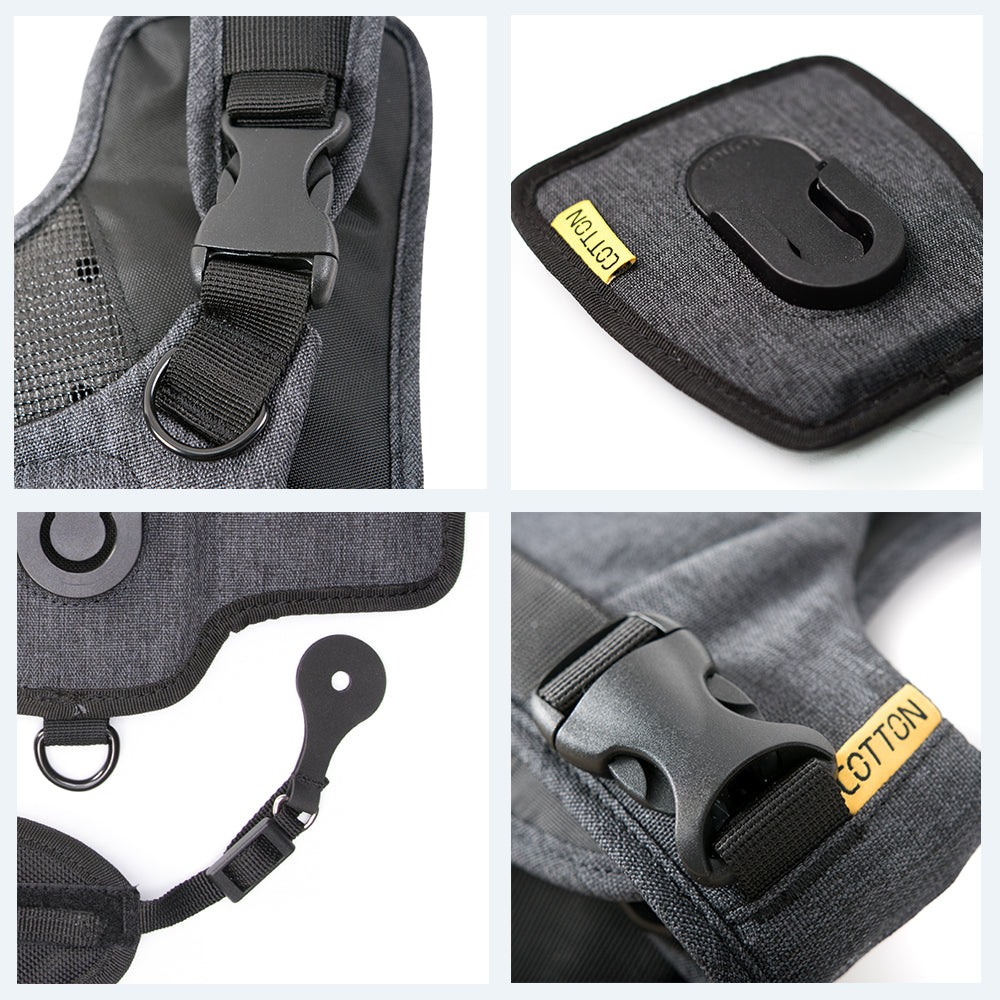 Professional grade materials with a guarantee
Cameras and lenses are expensive, so why take a chance when transporting your gear? Our high-quality products are made from tough materials: 
• Rugged Nylon 6 camera mounts
• Hand-tooled anodized aluminum camera mounting hubs
• Premium polypropylene nylon webbing and straps
• Precise stitching and oversized clips all around
CCS G3 Grey Harness For 2 Cameras
CCS G3 Camera Harness System for two cameras - Charcoal Grey. This system for two cameras is designed for the active photographer. The harness and side holster supports and secures 2 cameras and lenses. Work for longer periods of time without needing to go back to a camera bag for more gear. The ergonomic design of this two camera harness distributes the weight of the cameras helping to lessen the fatigue of a long shooting day.
Regular price

$179.00 USD

​

Regular price

$0.00 USD

​

Sale price

$179.00 USD

​
CCS Universal Tripod Adapter Plate
Regular price

$49.00 USD

​

Regular price

$0.00 USD

​

Sale price

$49.00 USD

​
Introducing the updated CCS Universal Tripod Adapter Plate. It allows you to use your Cotton Camera Carrying System with any quick-release tripod mount. The plate is compatible with most tripod heads on the market. It is cut to fit directly into any Arca Swiss-style head.
If you're tired of changing adapter plates every time you want to attach your camera to a different tripod, this adapter is for you!
Frequently asked questions
Can the G3 be used while wearing a backpack?

Yes & comfortably! It works well under Day packs and extended packs.
The G3 Can be used while wearing a backpack!
Do I get an instructional manual?

Yes all systems come with instructions which will be included in your purchase.
What size is this for?

The harness goes as small as 28 inches around your torso and up to 57 inches, 6 points of adjustment available to fit a variety of body sizes for women and men.
How should the harness fit?

The best fit for the harness is snug. You want the weight of your camera's to be evenly distributed throughout your body and down over your legs.

If the system is worn slopy you will not get the benefits of how the system is supposed to operate
What's the maximum size this can handle?

Our harnesses are engineered to carry more than you can put on them. That being said your body can only carry so much weight and can only handle lenses of a certain length. For instance, a 600mm f/4 with its lens hood will probably be too long! For larger telephoto lenses we recommend securing the camera hardware to the lens foot.
What are the technical specifications?

Harness weights 441g or 0.97 lbs

Materials: Kodra Synthetic canvas with DWR coding fitted and a hardened nylon 6 receiver plate

Safety Tether weighs 17.5g

Materials: High Impact rated clips made of fiber glass reinforced hardened plastic with aluminum lever and nylon webbing

Camera Hardware weighs 20.5g

Materials: (CCS Hub – Flat Mounting Hardware, Hi-density Rubber Washer, and Stainless Steel Marine Grade Camera Mounting Bolt)

One Size Fits All design going from 26″ to 57″ inch waist

No weight max achievable by camera gear
Can I still use my tripod?

Yes, you can still use your tripod. With our Universal tripod adapter plate, you can go directly from your CC harness into your favorite tripod head. It's Arca-swiss compatible and if you use another brand like Manfrotto you just need to bolt the foot onto the Universal adapter plate. This adapter fits about 95% of the tripods currently created.

If you have any questions, kindly contact us:

Toll-free in North America 1-877-852-9423
Direct Dial 1-778-340-1535